END OF AN ERA, FRACTALFORUMS.COM IS CONTINUED ON FRACTALFORUMS.ORG
it was a great time but no longer maintainable by c.Kleinhuis contact him for any data retrieval,
thanks and see you perhaps in 10 years again
this forum will stay online for reference
The All New FractalForums is now in Public Beta Testing! Visit FractalForums.org and check it out!
Amazing Fields
Previous Image | Next Image
Description: After it showed up in "The Accident" i had a little study of this pixel cloud. It's a bit problematic to work with it .. the navigator nearly gets useless and i had to calculate huge previews to see results. This study here is 6x AA and could be even more for my taste. Also interesting results with DE stop 80 and up ... found ways and paths in there too but not really a "picture" jet. So it's just a study.

Amazing Surf / _rotatedFolding ... Fractasia's amazing fields forever


PS: Thanks a lot for this amazing formula, Kali! It keeps me busy.


Edit: Another view ...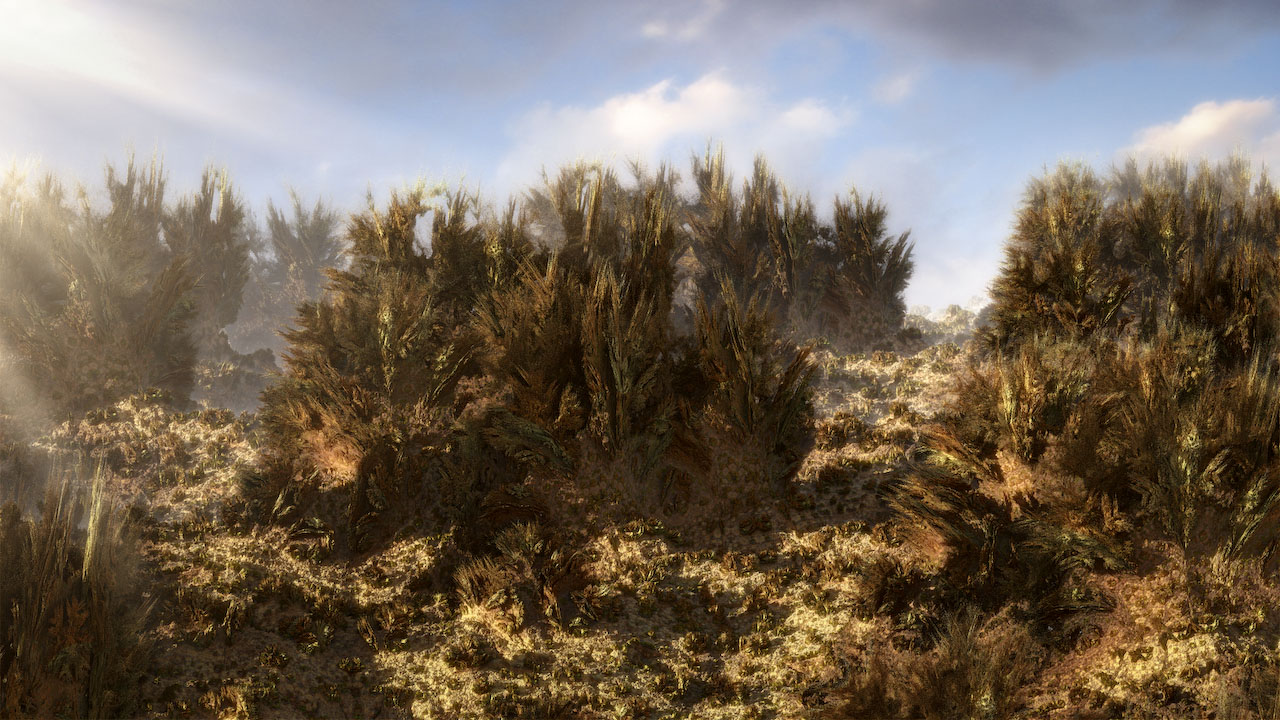 ---
Stats:
Total Favorities: 1 View Who Favorited
Filesize: 347.66kB
Height: 720 Width: 1280
Discussion Topic: View Topic
Keywords: AmazingSurf _rotatedFolding
Posted by: lxh
October 02, 2012, 07:10:34 AM

Rating:
by 11 members.

Image Linking Codes

| | |
| --- | --- |
| BB Code | |
| Direct Link | |
| Html Link | |
0 Members and 1 Guest are viewing this picture.
Comments (15)
Dinkydau

August 18, 2013, 07:30:28 PM

---

Very nice!
lxh

October 03, 2012, 05:11:04 PM

---

Many thanks, Fritz! Cheers
Karmafritz

October 03, 2012, 11:09:18 AM

---

great image!
lxh

October 02, 2012, 02:47:41 PM

---

Thanks a lot my friends.

@Mark: Now it is you, who is too kind. But you cannot compare this. I think these two pics here are sense-, meaning- and worthless ... except as a "not seen before" fractal.
MarkJayBee

October 02, 2012, 01:44:08 PM

---

Wonderful image/s LX. The 'painted' effect puts me in mind of Turner.
There's a real sense of place in both versions; some other-worldly
equivalent of a Scottish moor perhaps....?

dainbramage

October 02, 2012, 12:36:41 PM

---

Excellent work!
lxh

October 02, 2012, 12:00:35 PM

---

Thank you Johan! Glad you like it
KRAFTWERK

October 02, 2012, 11:58:27 AM

---

Amazing find, lovely renders, great lighting lxh!
lxh

October 02, 2012, 11:57:17 AM

---

I think it's not that easy to "hit" the right painting style. Especially if you are not totally into painting. The effect could be more confusing than now.

But thanks again for the constructive input. If i find a motive there which is worth to do more than a study, i'll take account of!
taurus

October 02, 2012, 11:35:40 AM

---

when you have a digitiser tablet it should be a work of minutes with artrage or something similar.
lxh

October 02, 2012, 11:26:36 AM

---

Thanks for the feedback, guys!

@taurus: You may be right with the sky, Torsten. Could add decent noise to the sky or try some paint filters. Or both or leave it away. Or calculate or actually paint on. Hmm .. another option would be to get out the painted look. But the question is how. It's technically fuzzy.
Tahyon

October 02, 2012, 11:08:56 AM

---

great work , i like the paint looking, cool work!
taurus

October 02, 2012, 11:02:26 AM

---

indeed painterly look. it's a bit confusing to have a photograph as background. you should paint the sky too...
lxh

October 02, 2012, 08:14:17 AM

---

Thanks Tglad! It's also your work
Tglad

October 02, 2012, 07:20:28 AM

---

looks like an oil painting, nice